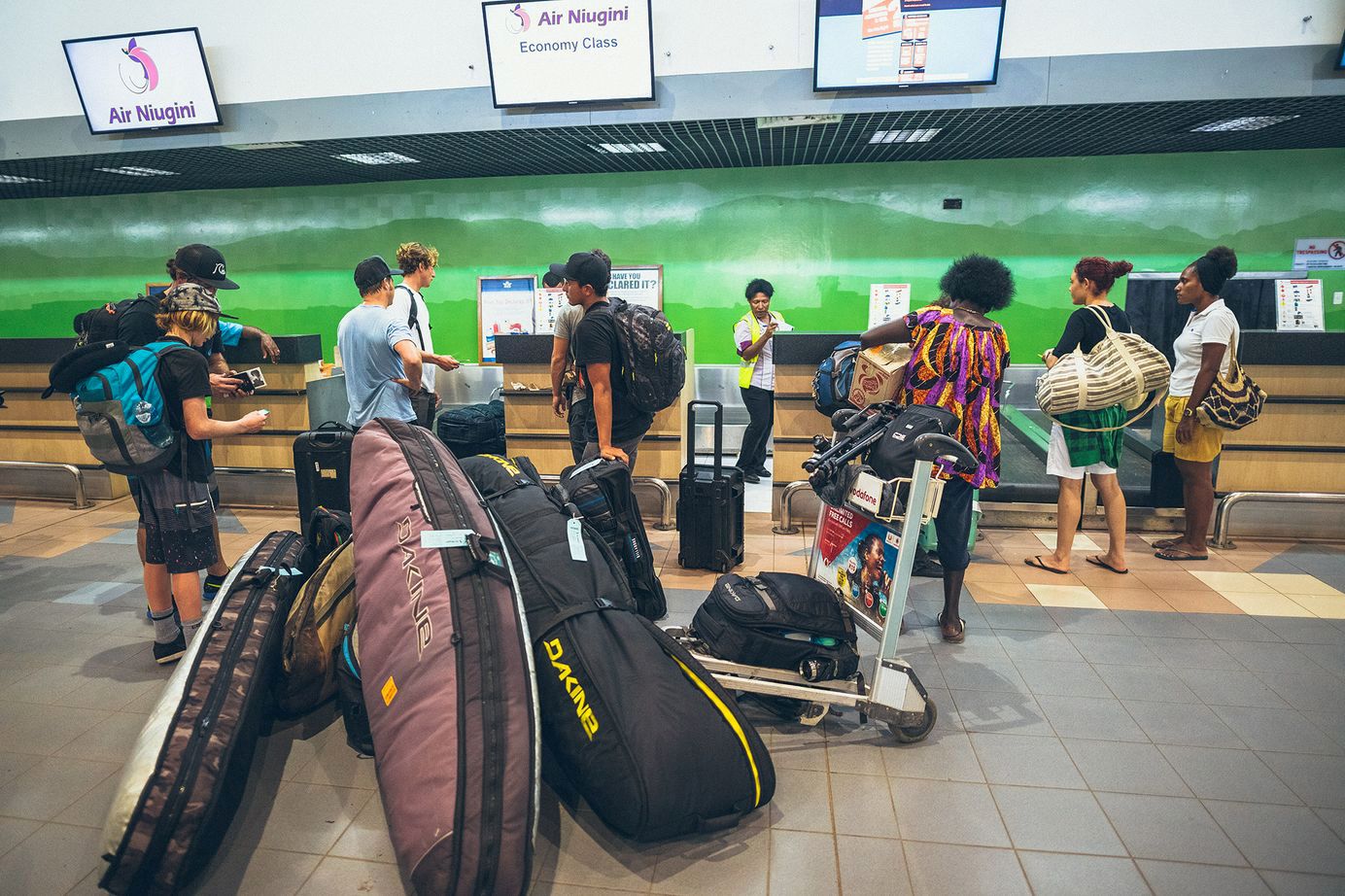 Tips and Tricks for Traveling with Surfboards
A guide to keeping your precious cargo (i.e. surfboards) safe en route for surf
One little thing that most surfers know is that despite being on the way to some wave-rich destination, when traveling with a quiver of surfboards, your 4-5-board coffin bag can feel a bit like dragging around, well…and actual coffin. Often, it's a 50-lbs-plus, 7-foot-long bag of deadweight that incurs an "oversized baggage" fee at every corner and/or stop-over. Often, it is not fun to travel with said-loved ones (your surfboards).
But indeed, there are ways to lessen the headaches (and the board bag fees). For one, unless you're on the World Tour — you do not need 4 or 5 surfboards on a trip to, say, Costa Rica. To anywhere, really. Also, the ticket agent at check-in isn't the enemy. In fact, a bit of goodwill and reverse psychology can go a long way in these sometimes tense encounters.
The following is our guide to traveling with surfboards in the most painless way possible. Soak up the knowledge, keep the boardbag light, and go far.
How Many Boards?
That depends on your skill level and surf destination. If you're just learning or a beginner, we'd suggest bringing only one board (the one you normally use) on a surf trip–and no more. Also, consider renting a board at the destination, which is often very possible. As an intermediate surfer, we'd recommend 2-3 boards, tops. A standard shortboard or small-wave board, and a step-up if you need to. For advanced surfers, we'd say 2-4 boards. Two for shorter trips, and more boards for, say, a boat trip where you'll be surfing your brains out and want to try different craft.
How to Pack
Unless you've got a really cheap bag, most boardbags have ample foam protection and foam board dividers. For extra padding, you could wrap the noses and tails (all together, not individually) with bubble wrap, or cushion those areas with a towel or (dry) wetsuits. Stack boards in board bag in descending lengths, all in the same direction, with nose rockers curving over the next consecutive board. Make sure there are a few inches left between the tails and the tail-zipper of the bag. We wouldn't recommend day bags within boardbags, unless it's just one or two boards.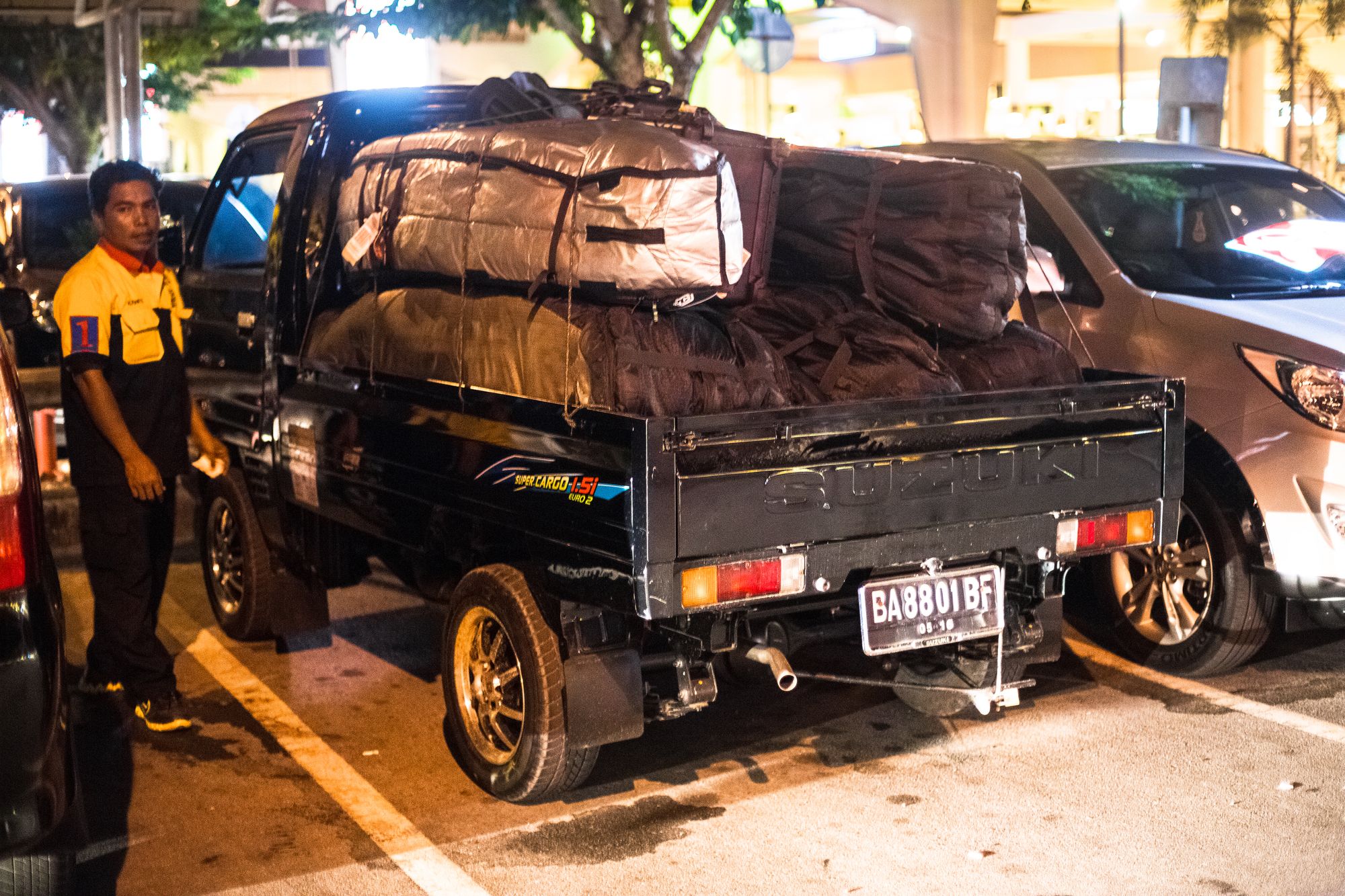 Travel Light
We can't stress this enough: don't overpack your boardbag. Try to just keep it: surfboards, the bubble wrap, and maybe a wetsuit or towel for cushion in there and nothing else so the scale is in your favor at the ticket counter. Even though you'll pay an oversize baggage fee, the bag typically needs to fall under 20kg (50lbs). If it's well under that, you could get lucky and they'll waive the fee and check it as regular travel bag. In other words, keep fins, clothing and other heavier items/accessories in your carry-on or checked baggage to adhere to the airline's weight restrictions and surfboard policy.
Behaving at the Counter
If you've traveled with boardbags as much as we have, you're familiar with the "moment of truth" at the ticket counter when checking your bags. Sure, every airline has some protocol on whether to charge you or not for the "excess weight" that is a boardbag, but often, a little bit of charm and good vibes can prompt a ticket agent not to even bother charging you. Yes, this can actually happen. So, be respectful. Be reverent. Be kind at the counter, because usually, they've dealt with some cranky customers all day and could use a curveball.
Don't Overshare
Again, this is in regards to the ticket counter scenario. No need to offer up to the agent at the counter that you've somehow managed to fit 4 boards in a 2-3-board boardbag. That may give them pause and invoke a rule about only having so many boards in a bag. No need to tell them that you've fit every article of clothing in the bag or whatever it is — you want this interaction as brief as possible so that the agent can swiftly move on to the next and not feel any need to charge you.
Don't Forget
Sure, there's the surfboard(s), but for streamlined surf travel don't forget to pack: fins, leashes, fin keys, a (small) ding repair kit, crazy glue for a peeled-up deck pad, and roof straps. Roof straps are clutch. Because when you get to your destination, don't expect the van, shuttle, or taxi to have them. Bring your own!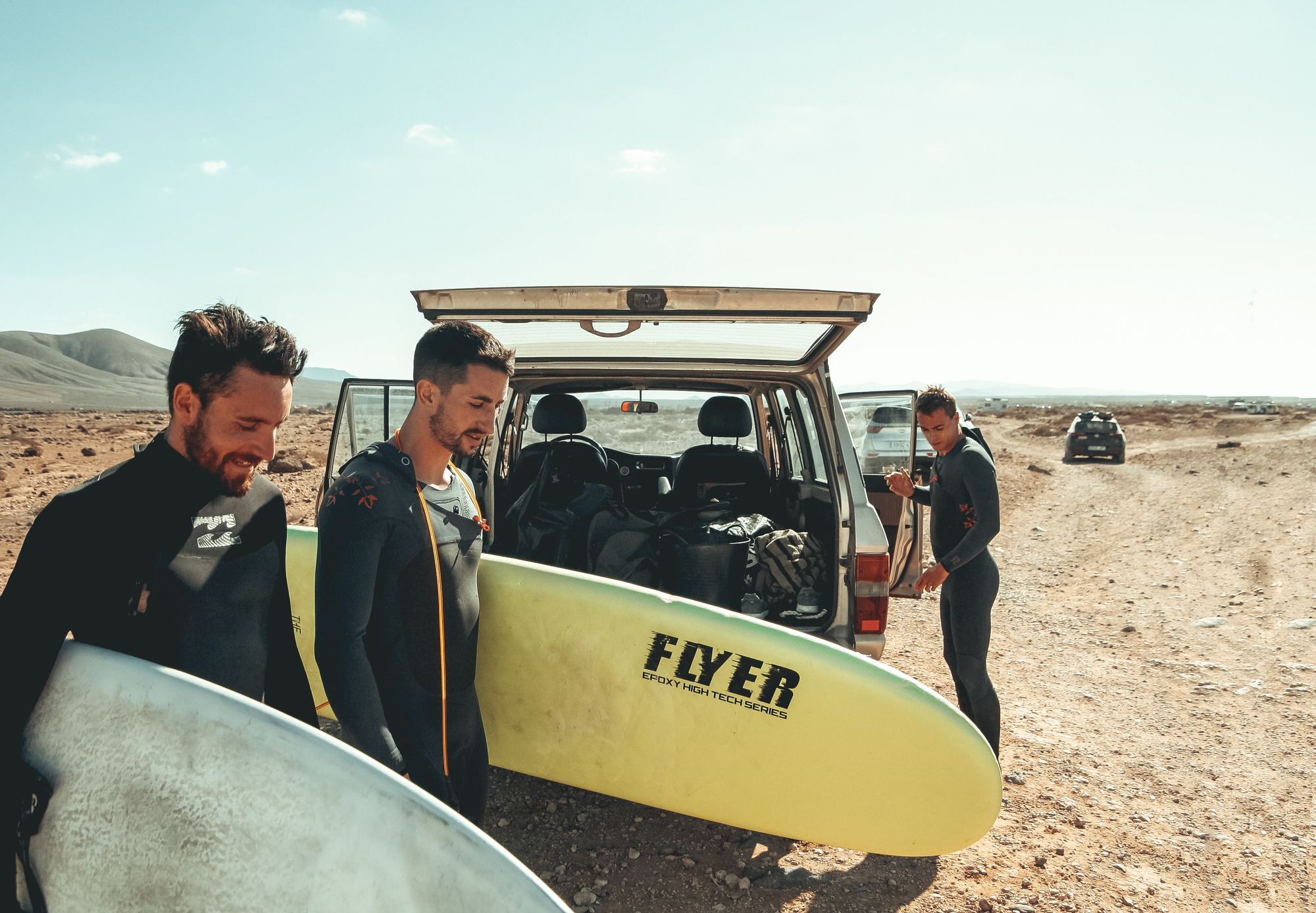 A Few Extra Hacks
If you blow out or crack the zippers, plastic zip ties work really well as a replacement and can last years. Also, find some board dividers and use those to separate the boards. Get the widest ones you can get and hide the rails between a couple on top and a few on the bottom. That way it looks like you can only see a couple boards on top and the others are hidden (if they look).
A Quick Breakdown of Airline Boardbag Fees
The following fees are one-way USD prices. Longboards or other boards over 9'6" can often incur higher fees.
Air Asia – Free – Varies
Aer Lingus – Free
Aero Mexico – Free – Varies
Air Canada – $100-$118
Air Emirates – Free
Air France – Varies
Air New Zealand – Free/Varies
Air Tahiti Nui – Free
American Airlines – $30-$150
Avianca – $100-$150
British Airways – Free under 75″ x 29.5″ x 25.5″ (6'6").
Cathay Pacific – Varies
China Airlines – Varies
Copa Airlines – $50-$150
Delta – $30 if first checked bag, $40 if second
EasyJet – $60
Hawaiian Airlines – $100
Iberia – Free/Varies
Japan Airlines – $200
Jet Blue – $100
Korean Air – Free
Latam (formerly Lan) – Varies
Lufthansa – Free
Philippine Airlines – $150
Qantas – Free
Singapore – Free
South African Airlines – Free
Southwest – $75
TAP Portugal – Varies
Thai Airways – $100
United Airlines – $30-$150
---