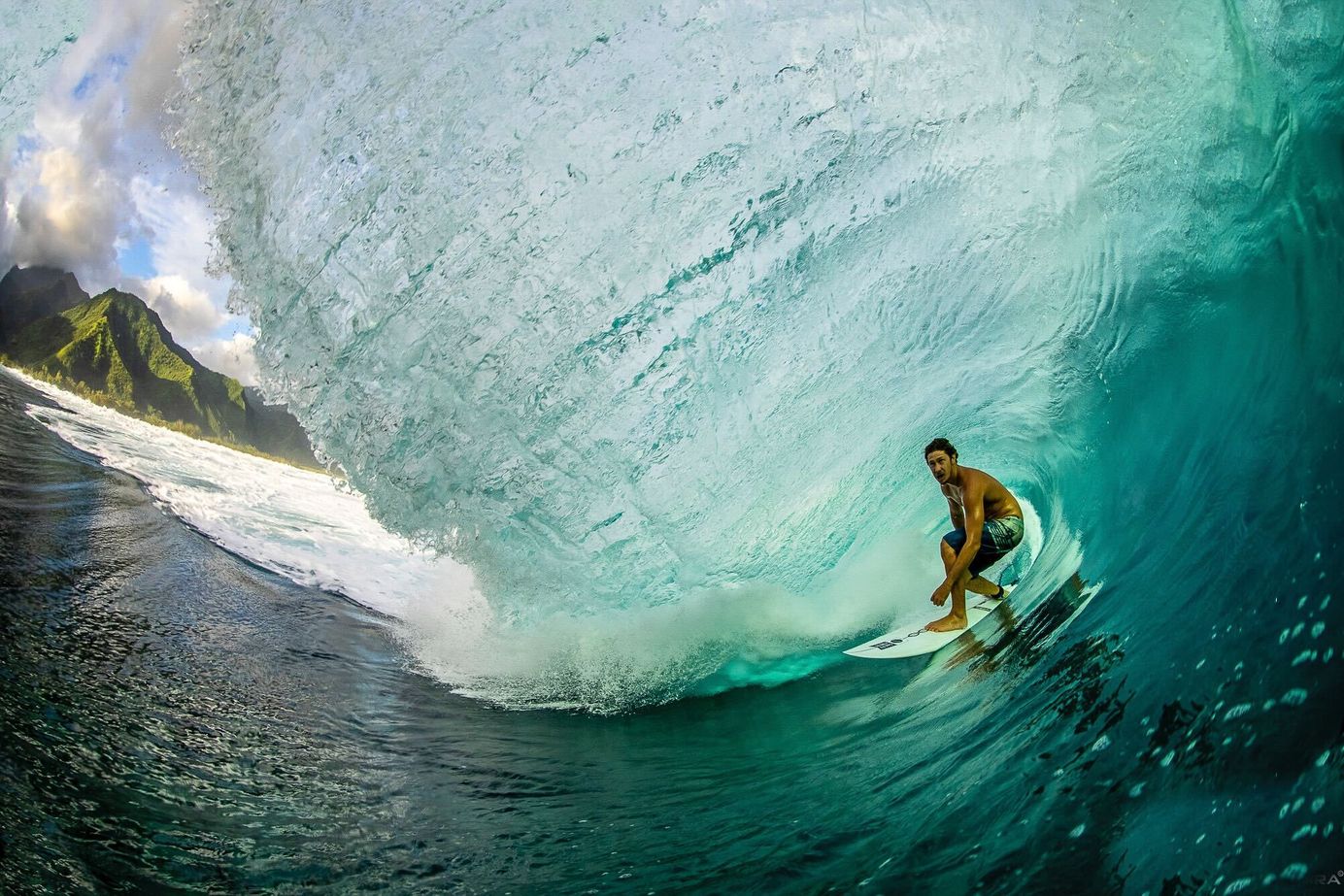 Tripping on Tahiti
Tahitian local Tahurai Henry gives us a deeper look at what it's like to do a surf trip in the idyllic South Pacific island-nation of French Polynesia.
When surfers picture Tahiti, a few images might come to mind. The terrifying (giant Teahupo'o slabs), the idyllic (fertile Gauguin painted valleys), the overwater bungalows (Four Seasons Bora Bora). Reality is, well…there are all those things, but those are just three things. Teahupo'o native and local hero, Tahurai Henry, has been showing folks the real Tahiti for some time now. Tahurai's connection to that part of the island in front of one of the world's most famous waves runs deep. His ancestors were actually the first people to populate Teahupo'o, on his mother's side. Now 31 years old, a new father, and fresh off a swell-bender that recently graced Tahiti, Tahurai's the embodiment of the world-renowned Tahitian spirit — that certain je ne sais quoi that keeps his guests continually returning. Already preparing for the 2024 Paris Summer Olympics (Surfing will be held at Teahupo'o!), Tahurai gave us a closer look at what a surf trip to Tahiti might look like.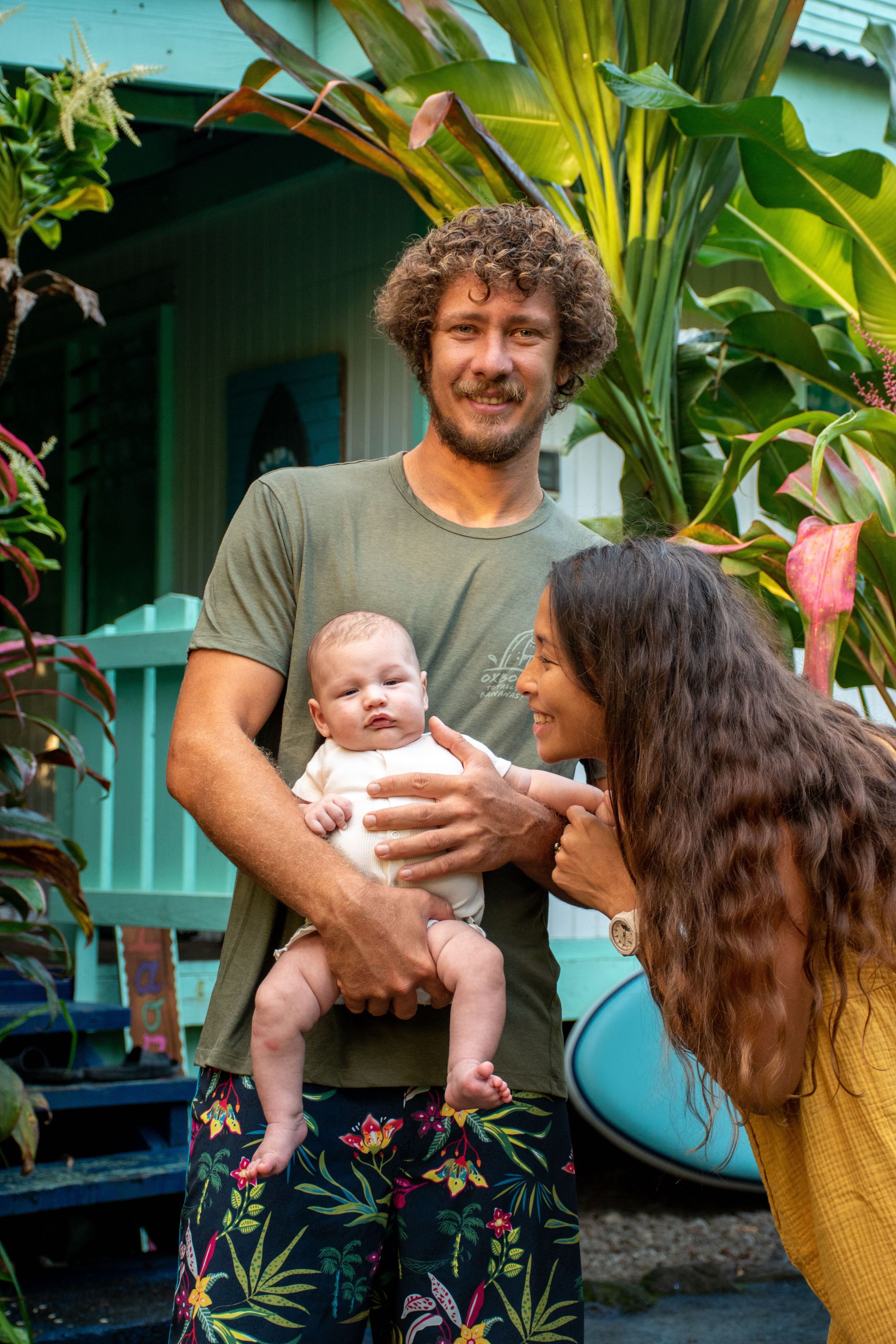 Thermal: So Tahurai, have you always lived right here in Tahiti? Tell us a little about yourself…
Tahurai: I grew up in Teahupo'o surfing the little rivermouth break out front and then from there graduated to the main break. So…from a little righthander to the one of the most dangerous waves on earth. I became a professional bodyboarder and traveled the world a while until I got injured really badly at Teahupo'o. I broke my back in 2014, the same day of the Billabong Pro when John and Kelly had that super heat. It was that morning. I had a concussion, it was bad, but I stopped bodyboarding and picked up surfing five years ago because it was actually easier on my back. Most of my friends were already professional surfers, and some of them surf Teahupo'o better than anyone. Here we are now, and I just signed my first professional contract with a company, something I never thought would happen when I first started, especially so late in life. I also just had a baby with my girlfriend Hinatea. Of course the other side of my job is our homestay which I help run with her.
Is it mostly surfers staying at the homestay?
It used to be mostly traveling surfers that would stay at our place, but once COVID hit, we began to think about how we could have more local people stay with us. What could we propose to them? So, we started doing yoga retreats and cooking classes, cultural and tattoo stays…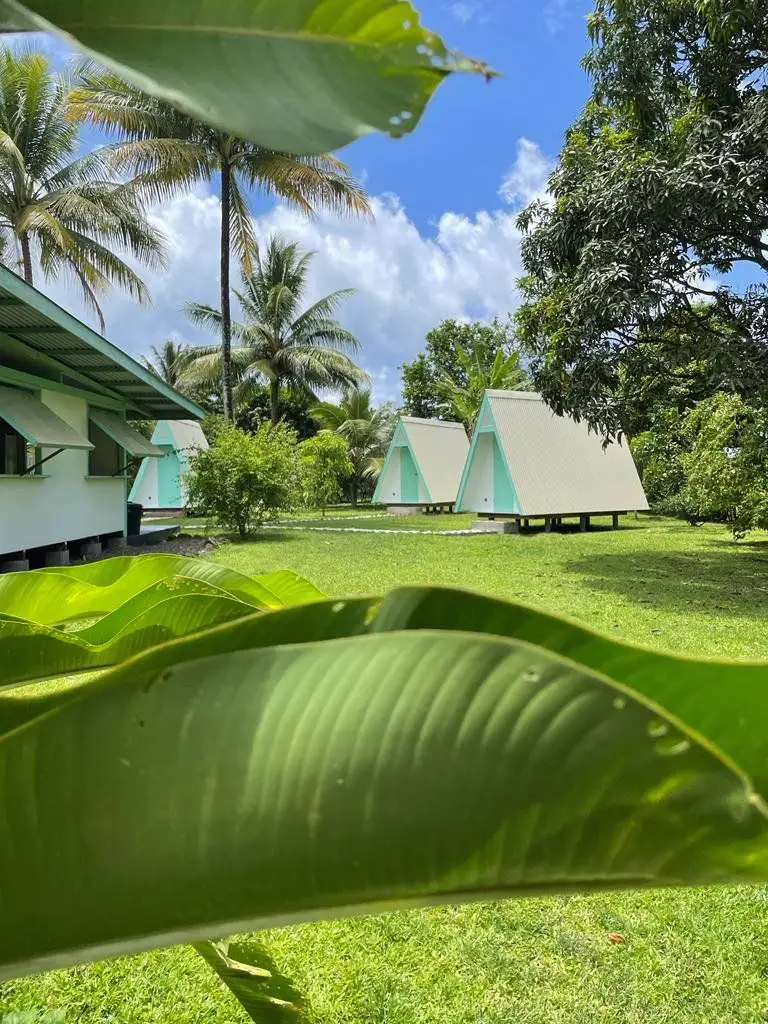 Awesome, tell me about that and what you offer.
Well, depending on the group — and mostly this happens on a weekend — if it's yoga, we'll invite a yoga teacher over to spend the weekend. We host the teacher and then guests will be here and we'll cook for them. Normally, on the last day, we'll take a small group on a boat trip to the undeveloped coastline past Teahupo'o. It's like Na Pali coast on Kauai. The road around the island literally ends there and it's wild and beautiful. They'll have a Tahitian style dish at midday, adventuring on the boat, and then hiking in to that area. Basically a guided adventure, possibly with yoga, too, if they want to do yoga out there.
Amazing. Do you do any trips to the neighbor islands?
Not really. I mostly keep to this island. I don't want to be the guy taking other people to other islands, I'll let the locals there take care of visitors, you know? I just guide people where I feel comfortable at. Plus, if someone wants to be guided on another island, there's guys that can do that there and I wouldn't want to take their piece of the cake.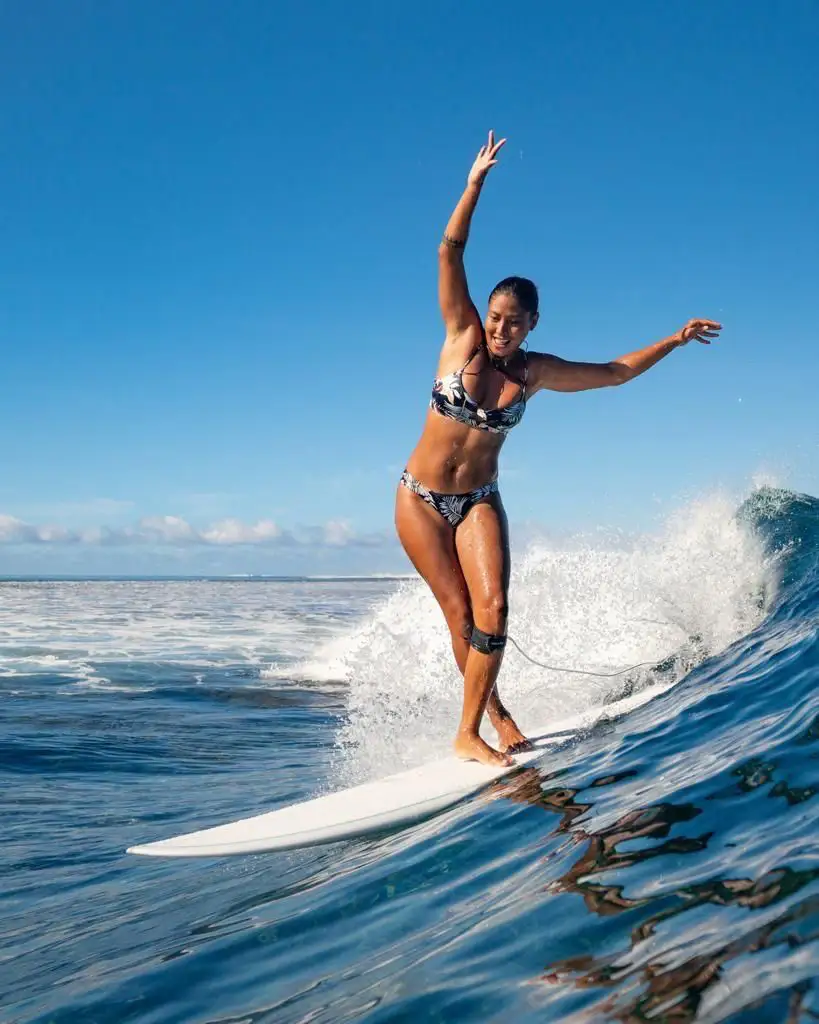 Understood. And surf-wise, is Teahupo'o the only game in town or are there any waves for beginners?
No, there are other waves. Papara beach break is a good one on the west coast in the middle of the island between Teahupo'o and Papeete, 30 min from here. If it's north swell season, I'd go to the other side of the island at Papenoo. At the same time, it's not super easy to find a mellow spot on Tahiti. The few ones can get crowded. But other waves exist for intermediate and above like: Vaira'o, Small Pass, a few others… I can take surfers there, but no more than 2-3 other guys at a time. Plus, my boat only fits 4 people comfortably.
What do you love most about your home?
The perfection of the wave, for sure, and the unique vibe that we have with the local people, whether at the breaks or in and out of the water. Like, Tahitians — they're the nicest people in the world. I haven't traveled the whole world, but I've traveled a lot and there's nothing like it. I've never been anywhere where it's 10-feet and firing out, and a set comes and you're sitting next to a local and he says, "yep that one's for you…" You're not going to find that at Pipeline or anywhere in the world. We share. As long as you respect the local people, they'll help you get some waves.
Also, here in Tahiti, the food is so amazing. We have so many ways of preparing fresh fish. Poisson cru is great of course, but that's just one way. We also have so many fruits and when we cook our guests meals, everything is from the earth, from the ground and grown here…that's what we're trying to offer them. Real Tahiti.
Any memorable trips from travelers you've hosted?
Too many…too many. I've had guys crying when they leave because they've never experienced a lifestyle like we have here. Eating well, getting to know the local people, sharing waves, getting to know the culture. It always depends. The weather can be good…or it can pour for two weeks. But if I see the weather doing that, I'll suggest another island that's drier or to chase the sun. I wouldn't ever want to keep them here just to take their money; I want them to have the best experience they can have, so that whenever they go home — they'll want to come back.
Advice to traveling surfers visiting Tahiti?
I would say that the basics would be: that when you get to a surf break, say hi to the locals, show them respect, shake hands, look them in the eye, and show them that you're not here to take their waves or paddle around them. If you show respect, you will get that respect in return.
Explore Tahurai Homestay Teahupo'o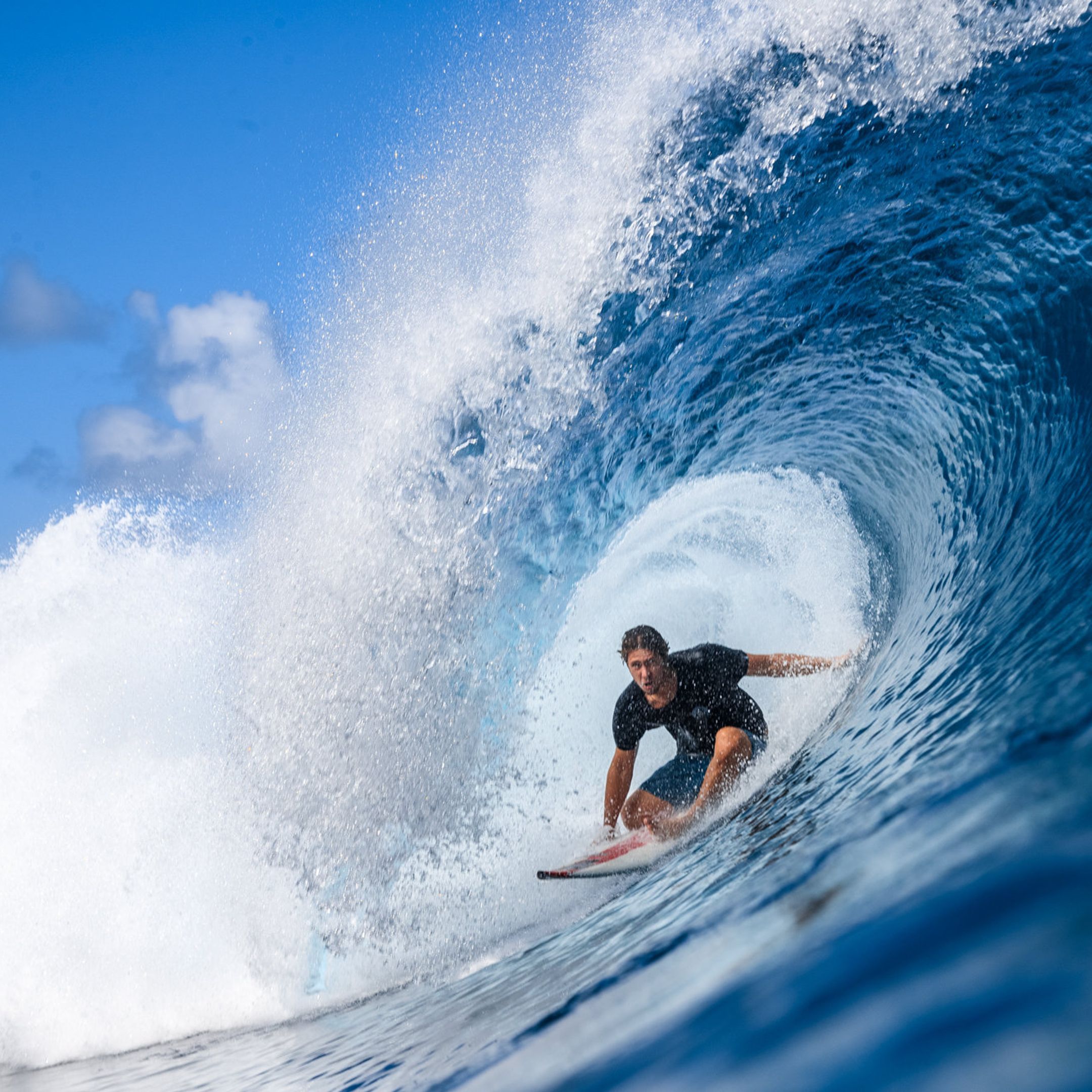 ---